Uppsala 2018
Bill Rutherford with Örjan Hansson's Heartbeat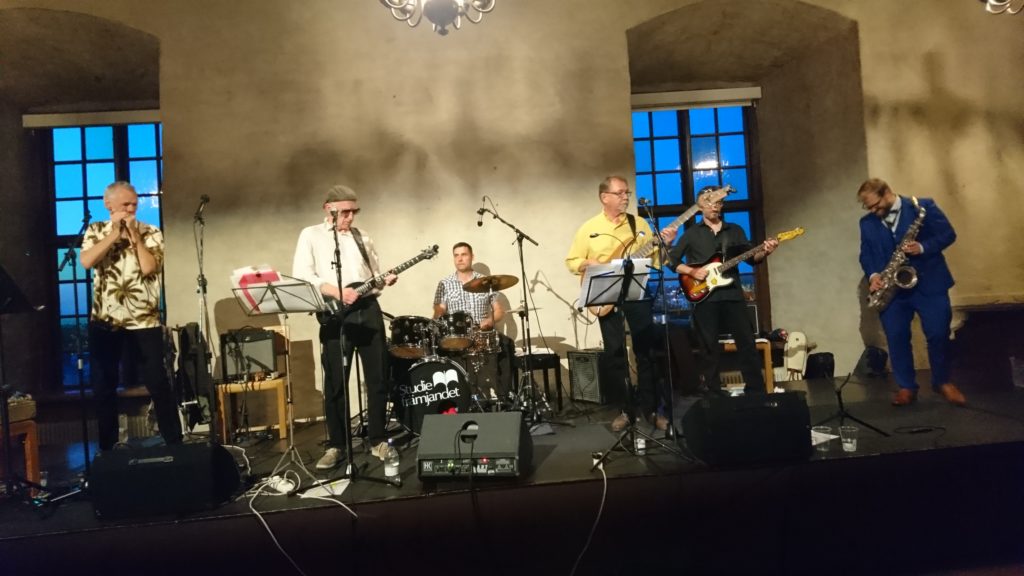 This two-hour gig took place at the Uppsala Castle on June 27th, 2018, at the conference dinner of the First European Congress on Photosynthesis Research. The band consisted of
Bill Rutherford (vcl, gtr. hca)
Jérémie Tepper (gtr)
Örjan Hansson (hca)
Leif Erichson (vcl, bs)
Anders Höjer (drm)
Casper De Lichtenberg (sax)
Bill is living in London (UK), where he has the band Baskerville Willy. Jérémie, stationed in Paris (France), is a member of Bill's band. Örjan, Leif and Anders are present or former members of the band Heartbeat, based in Gothenburg (Sweden).  Casper originates from Denmark and is currently living in Umeå (Sweden). Bill, Örjan and Casper are scientists doing photosynthesis research.
A few of the songs were video-recorded by a person in the audience using Örjan's mobile phone, resulting in a sound of limited quality.
Caldonia, by Louis Jordan
The complete video is over 13 minutes long (1.9 GB) and has been split in three parts.
Caldonia, part 1 (649 MB)
Harmonica intro (Örjan)
Song (Bill)
Guitar solo (Bill)
Song (Bill)
Sax solo (Casper)
Harmonica solo (Örjan)
Guitar solo (Jérémie)
Caldonia, part 2 (218 MB)
Song (Bill)
Harmonica solo (Örjan)
Guitar solo (Bill)
Song (Bill)
Caldonia, part 3 (313 MB)
Talking (Bill, Örjan)
Sax solo (Casper)
Harmonica outro (Örjan
Take This Woman, by Bill Rutherford (155 MB)